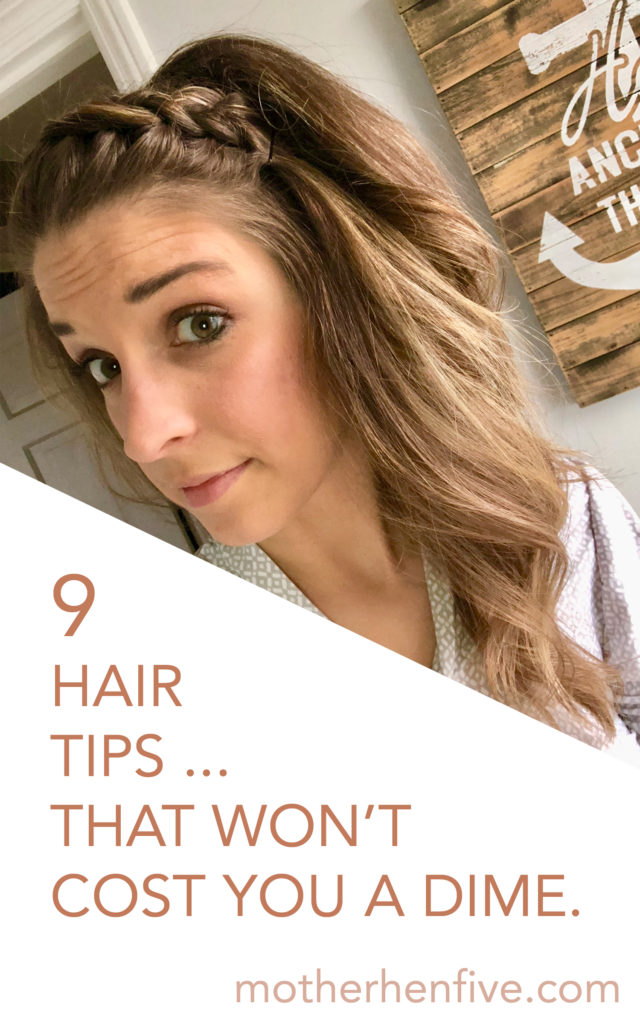 I have a few hair tips for you today … and they won't cost you a dime. Most are probably common sense, but maybe you'll find something new today. About a year ago I started implementing these steps into my hair routine and have noticed a HUGE difference.
Let's go …
1. Use a Comb on Wet Hair.
Never brush your hair out after you wash it! Use a wide tooth comb and you have all you need.
2. Shampoo Your Hair Twice.
Most shampoo bottle instructions actually recommend washing, rinsing, then washing again. I do this when my hair starts to feel yucky! It's a great reset button.
3. Trim Your Split-Ends.
I am NOT a hairdresser (just ask Natalie), but every couple weeks I will trim my split ends. When your hair is wet …. twist a small section of hair with your fingers, trim all the split ends that stick out from the twist.
4. Let Your Hair Air Dry.
This may not be possible for some, but I shower at night. My hair rarely comes in contact with a hairdryer.  I just sleep with my hair down, no ties or clips.
5. Blow Dry In The Direction of Your Hair Growth.
If you prefer to blow dry, aim the dryer in the direction your hair grows. The dryer should be close to the scalp and directed to the floor. Don't blow dry from the bottom of your hair up into your scalp.
6.  When Using Heat, Only Touch Each Section of Hair One Time.
Whether you curl or straighten your hair, be sure to only touch each section of hair once. Clip the bulk of your hair up, and be intentional with the heat. I straighten/curl 2-inch sections of hair at a time. The hair only touches the heat once. Remember, your hair is still warm for a short time after it has touched heat, so there is no need to run over your hair four or five times with your straightener. Let your hair cool, and let the heat do the work!
7. Give Your Hair A Break.
I only curl/straighten my hair three times a week. I actually like "second-day" hair better than the first!
8. Less Is More
Invest in good products … but you don't need ten. Shampoo, Conditioner, Dry Shampoo, and Hairspray is all I keep in my bathroom. Don't forget the power of a good hair-brushing. Our body is made to produce oils from our scalp. Those just stay in our roots if we forget to brush. I brush my dry hair in the morning. This usually takes about 20 swipes with my brush.
9. Drink Water
The more water the better! Water has so many health benefits and better hair is just one of them!
Have another no-cost tip? Comment below!!