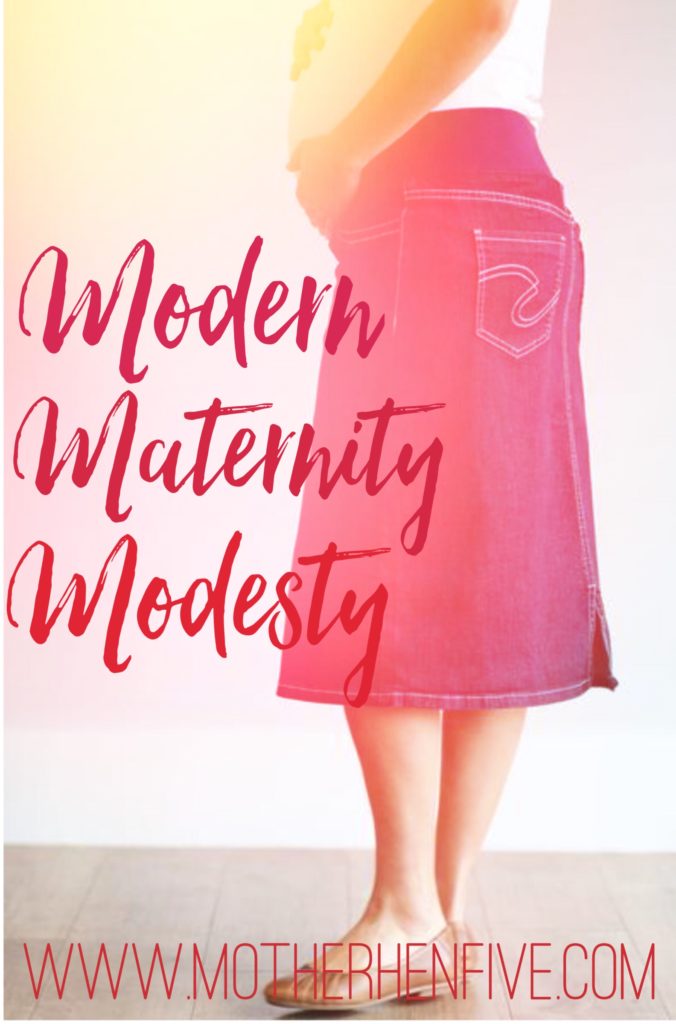 I'm now eight months pregnant, and I FINALLY feel pregnant! I was just telling my husband the other day, that I am just now starting to feel like I have limitations and my belly is getting "in the way." (I promise I DO NOT mean that it is an inconvenience! I am thankful for a healthy, active baby and don't look at her as an annoyance.) I guess I can't really complain about being eight months in, and just now starting to feel pregnant! I do feel truly blessed. One thing I feel as though I can't really stay ahead of is maternity close! My ever-growing belly is truly making it a challenge to find modest maternity clothes, without breaking the bank. I RARELY pay more than $10 for an item of clothing, unless I really LOVE IT, need it, or it's a dress. So when it came time to start looking for maternity clothes, I realized quickly that I would be breaking that rule! My first and probably my best purchase was a jean skirt off of Amazon. Here is the link
https://www.amazon.com/Mija-Maternity-pregnancy-Denim-jersey/dp/B06ZZPR8PN/ref=sr_1_5?ie=UTF8&qid=1528661507&sr=8-5&keywords=maternity+jean+skirt
When the skirt came, I could not have been more impressed with the fit, feel and quality! I wanted more, but didn't want to pay for another and the shipping! So I called in some reinforcements and Danielle came over to help me make some maternity skirts!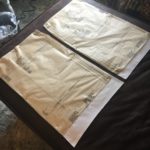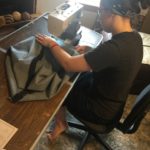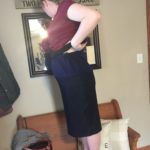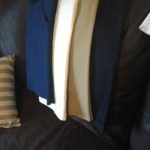 I bought a pencil skirt pattern at JoAnn Fabrics for $.99! We took my hip measurements and made that size. (The waist doesn't matter, because you only use the pattern for the hip down. After we cut the material and put the skirt together, we added a jersey knit 10″ band to the top of the skirt, with an elastic band (larger than what I needed, so I had some room to expand).  The finished product was a success! I was so comfortable and pleased with what we had made, I wished I would have more material since we were in the sewing groove. I think we made all three skirt in three hours. It was a VERY profitable afternoon, and Danielle was a huge blessing! The last picture is a picture of the skirts that we made vs. the skirt that I purchased online. Although the skirt from Amazon hit my knee, I decided to add a few inches to the bottom of the pattern to bring them below my knee. These skirts are by far my favorite maternity item I have made/bought! If you are expecting, I highly encourage you to whip out that sewing machine!
Now obviously, I did not make my whole maternity wardrobe, so here are my favorite places to shop.
1. Motherhood
I know what your thinking, "They are so expensive! How can she have a $10 or less rule and shop there!?!" I completely agree, they are expensive…if you shop the front racks! Head straight to the back of the store and go right to the clearance racks! Every time I have gone, they have had 40% off the clearance racks, and I have found over a dozen shirts there for well under $10 bucks! Most of them ranged from $5-$7. You just have to swing in and check out what they have because you never know! (I will say, I have splurged and bought some t-shirts from there when they had there buy one get one 50% deal…I'm a jean skirt and t-shirt kinda girl. So plain colored or graphic t-shirts for everyday use are a necessity!) So I have bought the most from Motherhood, despite my fear of there prices at the beginning of my pregnancy.
2. Ross
Next up is definitely Ross! We have a decent Ross, but I have seen better Ross stores in other parts of the country. So even though I have found some shirts there, its normally a hit and miss/picked through experience. However, you can always count on most of there pieces being less than $10! So I am definitely keeping it on my favorites list!
3. Kohl's
My husband and I went to Kohl's the other night, and I found a dress on their maternity clearance rack! Want to guess how much I paid? You guessed it! $10 It is very comfy and very easy to wear! Kohl's has a maternity section right next to the baby/kids clothes.  Definitely check that clearance rack out! I have always gotten great deals at Kohl's!
4. My own closet!
I was very surprised at how many pieces I had prior to my pregnancy that I am still able to wear today at eight months pregnant! Many of my dresses are high waisted flowy bottom dresses, which are perfect for maternity. So I have been able to utilize my pre-maternity closet a little bit.
5. Thrift Stores
I will admit, I have not found too many things when I went into the thrift stores. Most of what I see has been picked through, not my size or style. However my mom and sisters have found a few pieces that have been able to work, and I'm grateful they thought of me while they were out and about!
I hope this post inspired my fellow/future pregnant ladies to be creative and not give some stores the cold shoulder! I feel truly blessed with the many great deals I have found. I now have a decent modest maternity wardrobe I can Lord willing use for more pregnancies to come! Happy Shopping!