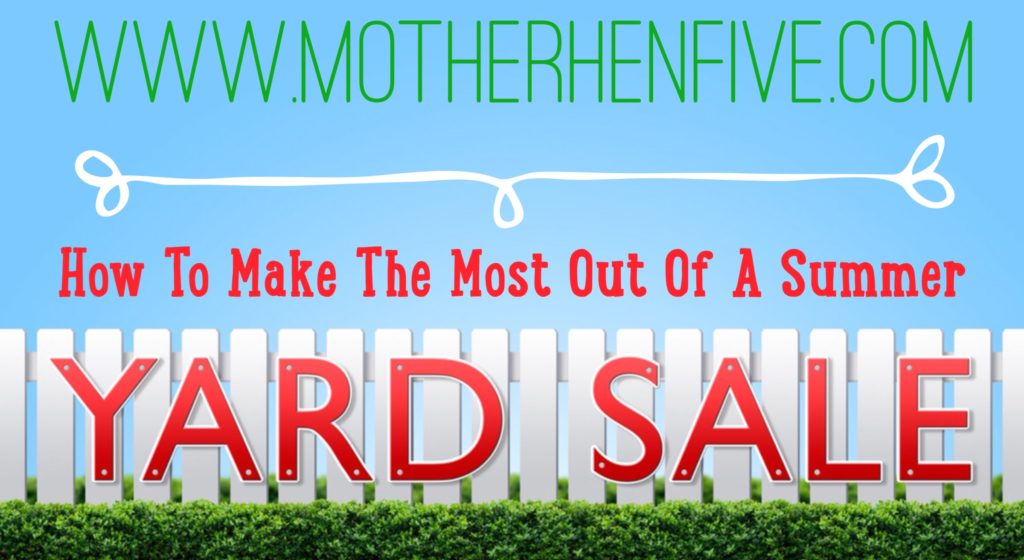 If you haven't already figured it out, I love a good deal! I am definitely all about saving money whenever I can. So when it comes to summer time, I love yard sales! I haven't been to many yard sales these past few years…but with a baby girl on the way, I have definitely been taking advantage of the few I have seen. This summer, I plan on saving a lot of money by hitting up some yard sales! Just last week, my husband and I were out soul-winning, and we came across a yard sale. I unashamedly went to the yard sale, and I am so glad I did! It was a very clean home and they had a whole table of baby girls clothes! Everything on the table was $.50! I grabbed some really cute pieces that I know I will be using! My friend Stacy Bethel is a yard sale queen! Her and her sisters/mom are always finding great deals! She is able to find really cute pieces for her daughter, Morgan, and there new addition, Tanner! She won't pay any more in a store than what she could or will find it for at a yard sale during the summer time! lol Here are a few things to remember to make the most of yard sales this year!
1. The early bird gets the worm, but the night owl gets the clean up!
Everyone knows what it is like to go shopping and feel like everything is picked through. Well…yard sales can be ten times worse when its picked through! Wake up early and get to the yard sale at the earliest listed time. This is going to ensure you get the best deals of the day. When my husband and I went to that yard sale, it wasn't planned but it was early enough I did not feel like I had missed out on a ton of great picks. Get up early and head out there to get some great deals! On the flip side, If you stroll around the block at the end of the day, chances are you are going to get some freebies! Most people DO NOT want to take everything back inside/haul it away so they are willing to either give it away, or drop the price. Now remember, you won't get first pick…but you might luck out and get a great steal! I am going to stick with the early bird and get the first pick! 😉
2. Plan your day!
Scope out the paper/internet and find out the sales you need to hit first, then go from there. For instance, I'm probably going to go to the sale that has "baby clothes" listed, before I hit the sale that is listing "like new furniture." Both sales would be enticing to me, but I am going to use and benefit more from the "baby clothes" than the "like new furniture." Read upon the Sales! Plan your day to make the most out of your day!
3. Be willing to walk away.
This is something that I do not struggle with. I am in no way shape or form a "clutter bug." I am always purging what I don't use. I don't want my house to look crammed or cluttered, so when I go to a yard sale, I don't just buy an item because… "This is a steal! You won't find one of these this cheap ANYWHERE!" I'm going to call my dad out on this and say this is one of his characteristics. 😉 He is a freebie and yard sale junkie! If it's a good deal, even if he doesn't need or use it, he will buy it! (Luckily for my mom, he has a shed to store all his treasures in now! hahaha) If it is clothing and it is stained, ripped or worn…even if its a cute shirt, walk away. If the piece of furniture isn't exactly what you wanted and you feel the urge to settle, walk away! Don't clutter your life and home with useless things from a yard sale that you will probably be reselling down the road.
4. Take small bills and quarters.
Unfortunately, I am one of those people who never have cash on me! (I'll blame my boss for going direct deposit so I don't need to go to the bank anymore. 😉 lol) My husband does most of the banking and I generally use a card when I do my shopping. However, my husband is always stashing cash in his wallet. (He calls it his "fish money"…a story for another day.) So I was very grateful that day we went to the yard sale and he had a few bucks to pay for my great finds! I would have been highly disappointed, if I couldn't have bought those baby clothes! When you go on a yard sale adventure, always take plenty of small bills and quarters. Don't hand that poor lady who just finished setting up her yard sale a $20 bill and steal all her change at the beginning of the day! Plan ahead!
5. Bundle and buy!
Now this is one area my dad IS KING at! He isn't going to buy anything without trying to lower that price before he whips out his wallet! I was able to get all my pieces for $.50 each, and each item was very clean and barely used, so I did not try and bring that price down. If the table would've been marked $1.00/a piece, I might have tried to put everything together and said, "Would you take $5.00 for all this?" Sure it may have only saved me a couple bucks, but that is a couple bucks I can spend at the next yard sale! So don't be afraid to bring that price down…but use wisdom and don't be a cheap skate! If you know it's worth the $.50…don't try and get it for a quarter! lol
Just writing about yard sales makes me want to go out and find one! It's Monday morning, and I'm sure there are some sales over the weekend! Plan your Friday/Saturday yard sales and have fun! I would love to hear about any good deals you find! Here are the pieces that prompted my blog post! 🙂 The Sleepers alone are worth $7 a piece!!! So I made out pretty good! 😉 Have a great day!