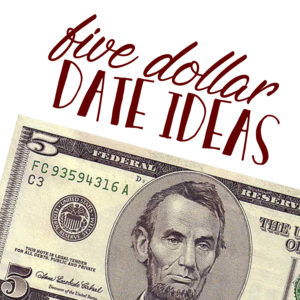 Valentine's Day has come and gone, we are finishing off the last of the candy, and hoping our flowers don't die too fast.
I found myself wishing I was this creative in showing my family that I love them every week … not just one day a year.
Realistically though, spending $50 on your special someone every week is not probable. Five Dollars? Certainly! And a pretty good investment if you ask me. I thought I would jot down some $5 (some free) date ideas. Hoping that you can keep that little spark alive in the next year! Remember, dates are about time spent together, not how much money you spend. Make the most of your time together by putting the phones away, using eye contact, and having meaningful conversations.
Here we go!
Library Run – need some quiet time away from the kids? It's sure to be quiet here!
Sundae Sunday – McDonald's has $1 chocolate fudge sundaes … with peanuts!
Walk-On Wednesday – get your exercise in by taking a walk … together!
People Watch at the Mall – remember, no shopping, just watching.
Thrifty Thursday – buy a gift for each other … at the thrift store! This is sure to bring some laughs!
Have a coloring contest and let Facebook be the judge. The most "likes" in an hour wins!
Slushy Saturday – Taco Bell has $1 slushies during "happy hours" … check them out for a cheap date, especially in the summer!
Try Geocaching! Get the app on your phone and check it out!
Free attractions in your area. We have TONS of free activities in Milwaukee, you'd be surprised what your town/city might have to offer!
Do a puzzle together – they have puzzles at thrift stores all the time … hopefully, they have all the pieces! ha!
Go to Sam's Club or Costco on sample day – yummy!
Drive to a scenic spot and take pictures on your cell phone. Print your photos at Walmart or a drugstore kiosk!
Monopoly Monday – nothing beats a good board game. Monopoly can get intense at our house!
Some of these may seem juvenile or silly, but when is the last time you had a good laugh with your spouse? We live in an intense world, and we have to start being intentionally fun in our marriages. Enjoy your time together, no family trouble talk, budget meetings, etc.  Just start with a simple date. I know it's difficult to find a sitter for the kids, so maybe your dates have to be at home when the kids go to bed. If you don't have family close by, utilize a teen girl in your church! Dates don't have to be four hours long (although that would be nice) just an hour will suffice.
Make the effort and you won't regret the results! Have fun!