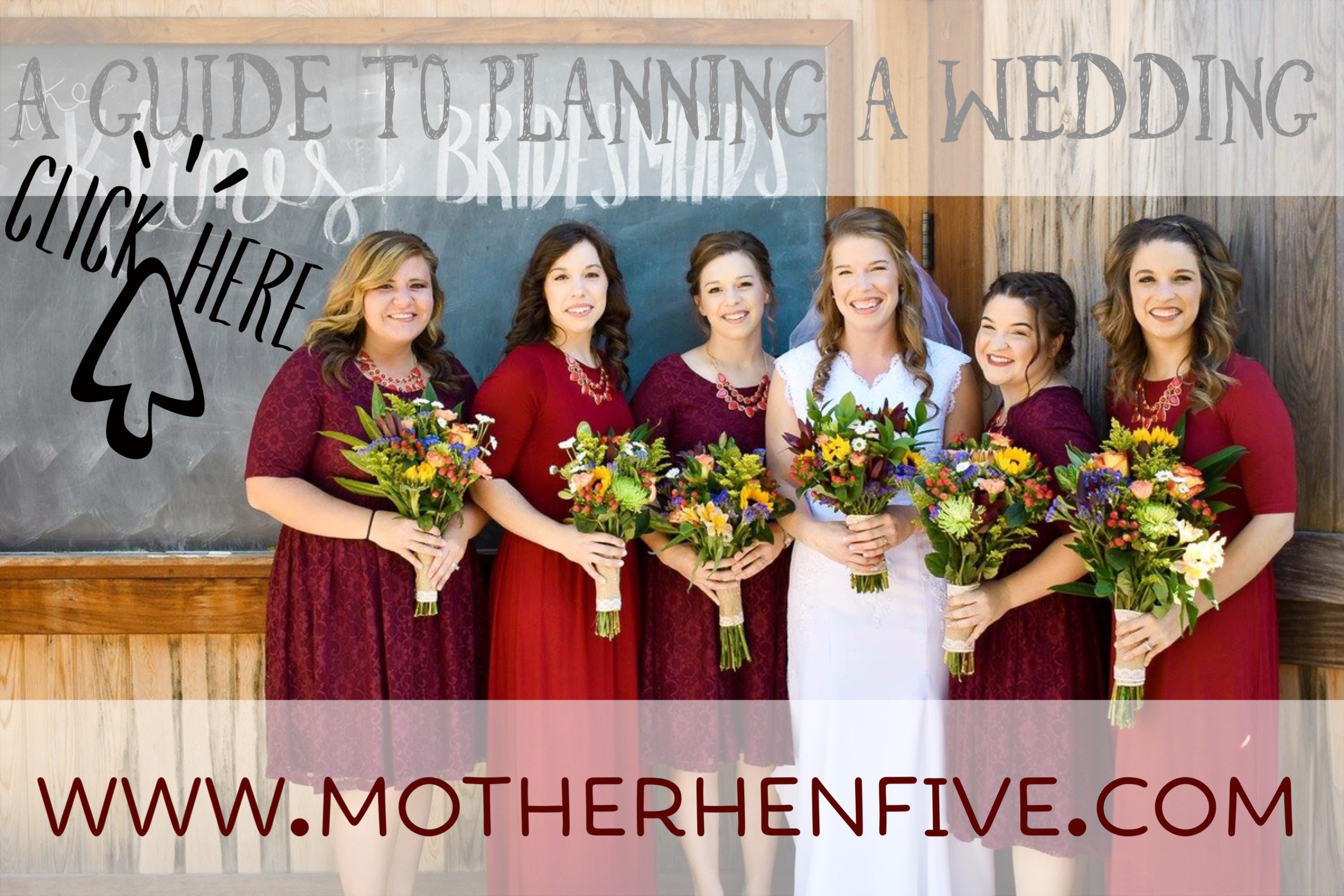 With Valentine's Day over…it is time to prepare for WEDDING SEASON! I am the most recent "Patterson Girl" to get married, so I decided to share some advice and money saving tips/tricks on wedding planning! Will and I's wedding is still so fresh in my mind, and I still think about how well everything came together, and how perfect our wedding day was. So here it goes…
Decide to have a "stress free" wedding! I know everyone who is already married and planned their wedding just laughed at the thought of a stress free wedding. Honestly, its true weddings without stress are unheard of! Even mine had a few moments of stress and near tears. Deciding I wasn't going to get stressed out, helped cut out about ninety percent of that stress! You can ask anyone who was involved in the wedding my motto was "stress free." I would say we accomplished that goal…except for an "almost" meltdown at the set-up of the wedding. My brother-in-law Paul said, "We should pray right now that God would bind Satan and everything would go together smoothly today." After our mini prayer meeting, our day went flawlessly! We finished early and I had nothing to set up on the wedding day. I was able to relax and take my time getting ready. I know that may seem silly, but do your family, bridal party and future husband a favor and decide you won't stress or freak out over things that will not matter after you say "I do."
Start planning/preparing right away! If you are like any other girl, eighty percent of your wedding is already planned on pinterest. Mine was! It helped so much to already have an idea of what I wanted. I made a few changes and stuck with my pinterest board for the most part. People thought I was crazy when I started sawing boards and painting the week after we got engaged, but I have had two sisters get married before me and I know what the week before the wedding can be like, and I wanted to have as much done as soon as possible so I could really enjoy the process! I bought myself a calendar organizer and lived by that for the next five months.
Ok…those are the biggest pieces of advice I can give you, now on to some money saving tips!
The Dress- It is a huge misconception that you have to spend hundreds even thousands of dollars on a dress to find the perfect one…but that is not the case! I only spent $149.00 on my dress and $100.00 to get it hemmed and slightly altered. I took a huge chance and ordered my dress online and had a great experience!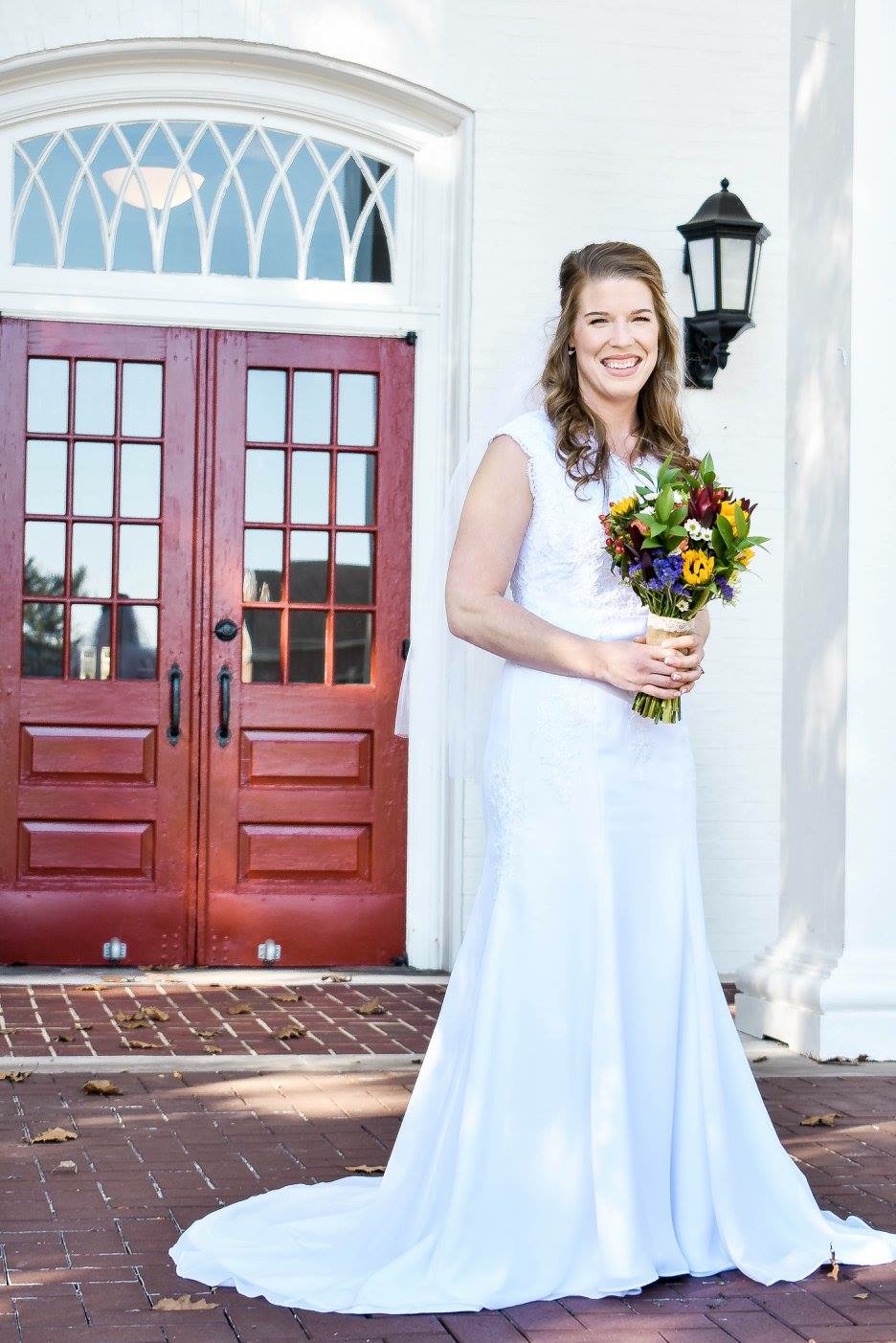 The dress was ordered off junebridals.com , you can even shop by a modest category! I loved my dress and don't regret taking the chance of an online wedding dress.
The Location- Venues can be sooooo expensive! When it comes to the wedding, most will get married in their church auditorium for free (I hope your home church won't charge you a fee!), or you will rent a church in the area. The reception generally costs more money than the ceremony itself. Do not be afraid to rent a gymnasium or, if you live in Pennsylvania, a fire hall!:) There are tons of tips and trick to disguise the location to make it your perfect reception spot. I'll share a few of those with you after a bit.
The Flowers- I was VERY shocked at how much flowers cost! My mom started this with my older sisters wedding and continued on with every wedding after that, and it saved a TON OF MONEY! Get your flowers at Sam's Club. Yes, they sell fresh flowers in bulk. You buy them online! They get delivered right to your door a day or two before the wedding, and making the bouquets and arranging the flowers with your bridal party is so much fun! We ordered our flowers from Sam's Club. We got the mixed bouquet fall package and ordered Isreali Ruscus for the harbor at the front of the church.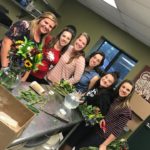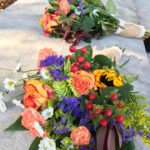 The Reception Lighting- When it comes to the location, sometimes the lighting is what makes the reception! That was the case at our reception. We had a VERY nice gymnasium at the same location of the church we got married in. It worked out perfect. When you think of having a reception in a gym, "elegant" doesn't come to mind. I knew from the very beginning that we would do an "outside set-up" inside the building. Including the outdoor lighting! We made floating poles out of cement, buckets, and 2×4 boards. We notched the top so the lights would slip off the boards and strung the lights down the center of all the tables. The lights were 50% off from Walmart, so they were not that expensive and we kept them for future events. My husband actually did the table layout and figured out all the lighting for me! He did a GREAT job!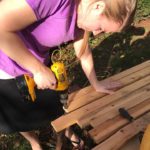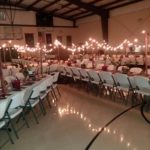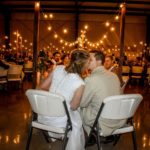 Do it Yourself!- Get out of your comfort zone and get your hands dirty! My husband and I made 70% of the decorations ourselves (My Dad did the other 30%)…we enjoyed the time working together, and saved a TON of money on decorations. Here are a few pictures of the things we made….
The Welcome Sign (Which is now hanging in the entrance of our home!) and Aisle Signs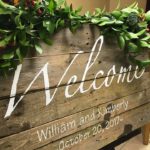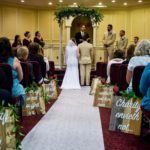 The Harbor at the front of the church.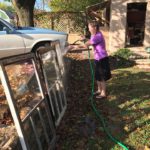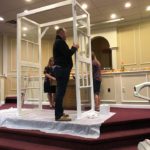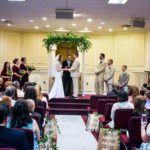 The Cake-Cupcake Stand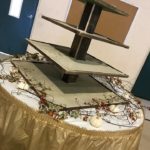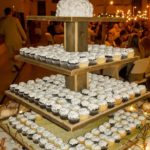 Our wedding was so much fun to plan and put together! I hope with these tips and tricks you will be able to say the same. Happy wedding planning! I am not an expert by any means, but if you have any questions, I would love to answer them! Comment below or find me on Facebook/Instagram to ask some questions!