A New Addition To the Family!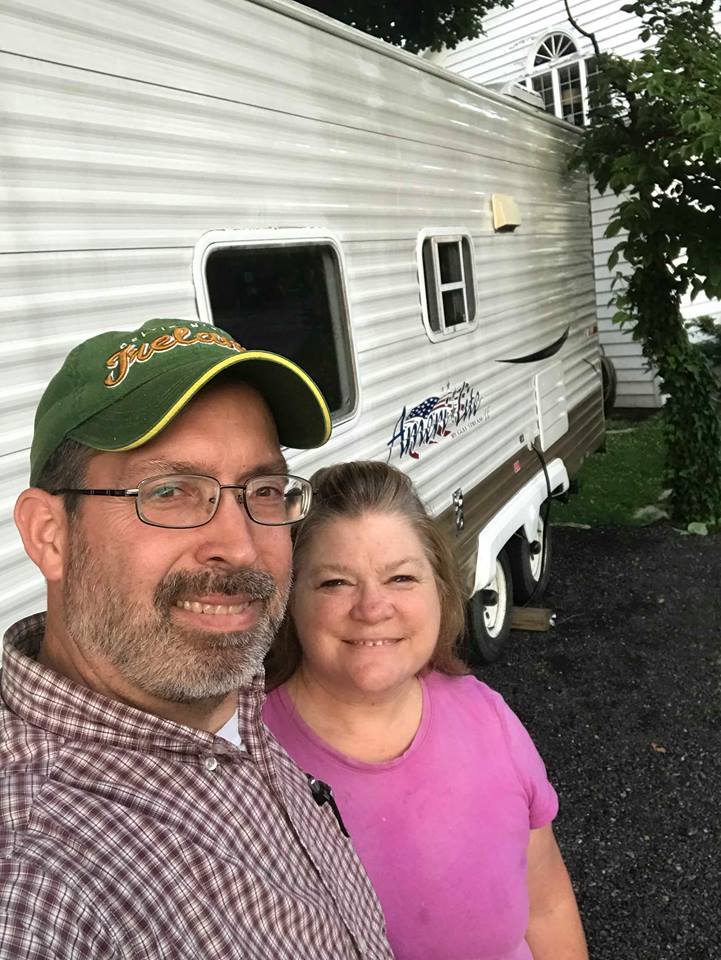 A 20 ft travel trailer! We loved camping as a family when the girls were younger. We had a huge tent that would accommodate 7 people, 5 single cots, a queen size cot, and everything else to go along with it. We always kept the food and cooking supplies in the car during the night with the windows up so as to keep food smells to a minimum and ward off critters at night. We have lots of fond memories from those early years.
Ken and I have started tenting again the last couple of years in a 4 man pup tent (Kimmy's). We still use our queen size air mattress in the tent with 12in. to spare on each side. What did we do with all that space? Not much. LOL We would throw it in the back of our Suburban along with a tote of camping essentials, our canoe and head to the nearest lake. Quick and Easy trips. We would always say it would be nice just to pull in and camp for a day without all the set up and clean up.
We have been looking for weeks for the right one. It had to have certain things to be the right camper. I have to have a booth table and it had to have a bed you can get out of on both sides (MUST)! There's nothing like getting out in the middle of the night and almost launching your spouse through the other side of the tent in the process. We found a few and some didn't have the "things" we wanted – Okay, I wanted. But those deals fell through, God knows!
We knew that with our price range (cheap) we were going to have to move quickly! Those price trailers go quickly. We found one in West Virginia that had only been posted for 9 minutes and it wasn't in our price range, close but not there. We contacted them immediately and made arrangements to check it out. Ken had a price in his mind that he was going to offer to them and if they weren't going to take it, he was going to walk away. A two hour trip down and two hour trip back – a waste of time.
Well, to make a long story short – He offered them $2,000 less than what they wanted . . . and they took it! Yay for us! It does have a little bit of water damage that has already been fixed and it doesn't have an awning, so some tender loving care is going to be given. Other than that everything else works great! Waiting for what you want and setting a reasonable price and sticking to it pays off.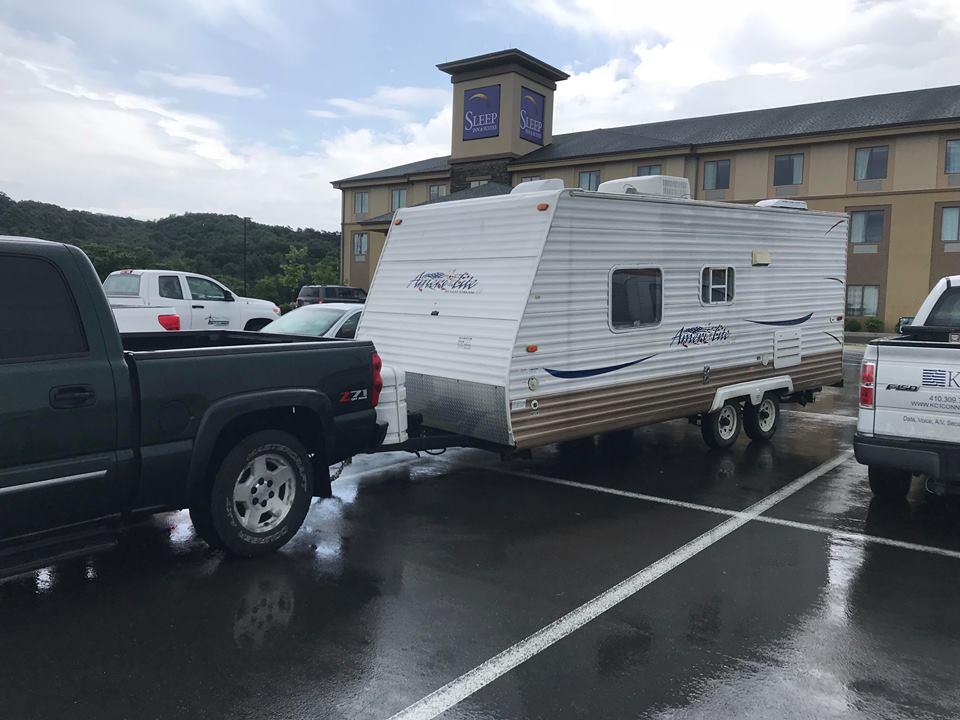 Being first time RVers:
What is some advice you would give us?
What places have you been that you would recommend we visit?
How about storage ideas (we don't have much!)?
We are cleaning it real good inside and out. We used Simple Green on the inside on every surface. The strength and smell there is no better cleaner. Ken likes to use Purple Power for cleaning outside surfaces. It works great on grease. Be sure to stand down-wind when spraying. It is very powerful and will take your breathe away if you get too close. Be sure to never leave it on chrome parts, wash it off immediately. Now that it's all cleaned up we are excited it take it out on it's first voyage as it's new owners.
Message me below with your favorite RV Adventure!
Side Note: These two cuties came for an overnight visit to PawPaw and Nana's this week!