THIS IS ONE DAY I WILL NEVER FORGET
This trip was one interesting trip that will stick with me for the rest of my life. There was laughter, embarrassment, and even fright all in the same day. I don't want to give the whole post away so we will just start right at the beginning. This post does consist of two places that you can visit on top of the coffee shop.
This trip was planned by my parents for Christmas. I am guessing mom more specifically since dad always says that "Christmas is just as exciting for me as it is for you because I don't' have a clue what you are getting." I had mentioned if no one knew what to get me (Since I am a hard one to buy presents for apparently), just search out a coffee shop and give me money for fuel and I will be a happy duck. Sure enough, mom heard my request and Christmas evening I received a coffee shop address and some cash for gas. A few weeks later we took the trip
I loved this trip, mainly for the reason Livi was off work to go with me. This was the first and the last trip she will probably take with me to any coffee shop (You will know why later). The morning started with me filling the air in my tires and filling the gas tank up and planning to pick up Livi after her chiropractor visit.
We left Tyrone with the beautiful clear weather. Now mind you it was winter so it was cold out, but Praise the Lord for heat in a car. So we took off. Livi is feeling great with her body aligned and we are off for coffee around 9:30. Snow started falling about 45 minutes into the drive. It was a pretty drive to Johnstown PA with the roads clear and snow all over the trees. We reached our destination!  Livi and I snapped a few photos and then were ready for a cup of coffee.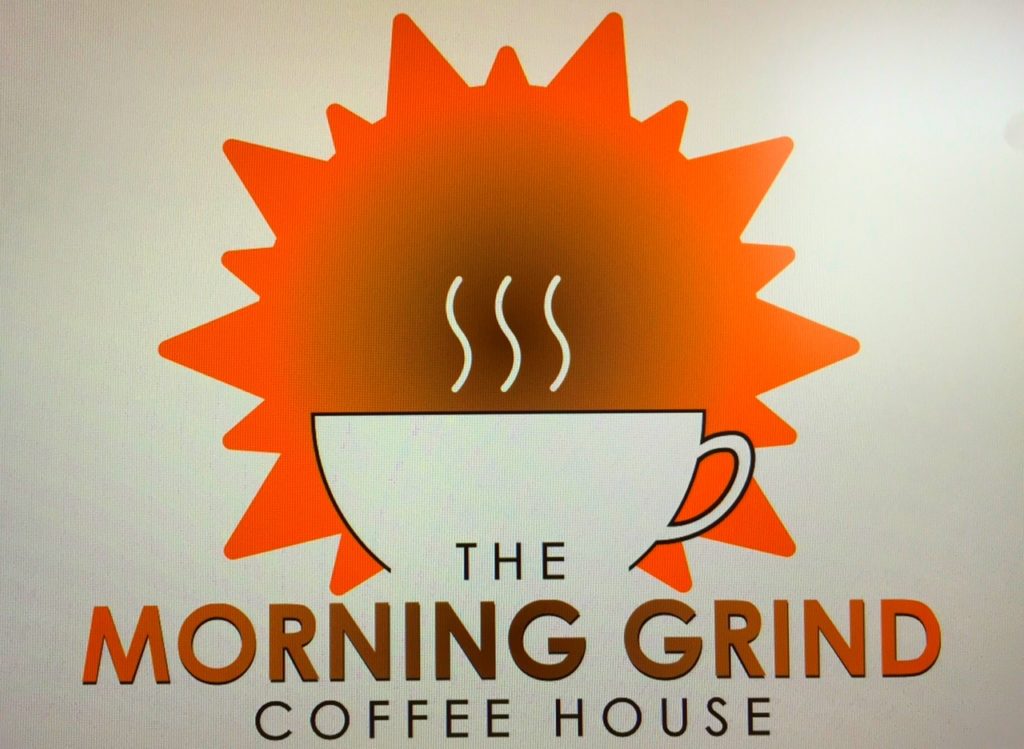 The Morning Grind Coffee shop is a great comfy place to relax. They had great service and coffee and I knew that before I walked in. Clearly, it is a great place if I struggled to find a parking spot when the snow is falling and its nasty weather out. Honestly, though I was very impressed with the atmosphere and service. It almost reminded me of a Dunkins by the set up of how things were run. There were a lot of cups, shirts, coffee, etc to purchase and I always love that. There was comfy seating with couches, tables to just set at, and even a huge table in the back for larger groups. Livi and I grab our coffee and were off to find a table. We found the checkers table and decided to kill time by playing a round or two.
This was are crying/laughing time. Poor Livi struggled with the concept that unless she was king she wasn't allowed to go in any direction that she wanted too. We were the weirdos at 11:00 who were laughing uncontrollably. It was incredibly hilarious. The place was very comfortable and had some great things to purchase. I bought two bags of their Blueberry Crumble coffee because our family loves Blueberry coffee with French Vanilla Creamer.
We Finished up at the coffee shop and I told Livi that Johnstown had a big mall that we could go to since we had all day. She was up for it, and if you know her like I do I knew we were going before I asked. Livi was in her own world if you can't tell by the photos below.
We finished up in the mall and headed to Lunch. We decided to hit the Johnstown flood memorial after lunch.
Sure enough, the weather was getting worse and I was feeling uncomfortable about the weather. I really do get uncomfortable when I drive in weather that isn't sunny. I don't even like driving in rain. We jumped into the car and started driving. People were driving like idiots and doing their own thing by driving incredibly fast while trucking through about 5 inches of slush everywhere. There was no way I was feeling comfortable. As we waiting for the intersection light to turn green Livii was grabbing something out of her purse. Out of nowhere, a car hits us in the back. We jerk forward and I am asking my sister if she is fine. She is complaining about her back is a mess. It took her seconds to be mad about her chiropractor visit and how its a waste of money. By now we were trying to call dad to ask what we are to do. I would have been more of a mess if the man wouldn't have been such an adult and making sure we were okay and telling us what stuff we had to swap. I left feeling horrible because my car didn't look damaged but it did some serious damage to his.
It may look all cute and all but my car has really bad damage and I didn't realize it till about a month later, by then it was too late for the insurance to cover. We finished up doing the normal stuff you do when you have an accident and started to head home. by the time we got out of town, the weather was really clear and sunny so we decided to head to the Johnstown Flood Museum. It was a total learning experience because I had never known anything about the flood so I was reading everything and so amazed and how well the town recovered after a horrible flood like that.
Johnstown Flood Museum Website.
Never planned on adding this to the blog post so I never took a ton of pictures. Sorry! It is a time killer so plan on at least 45 minutes to tour and look around.
Have a great day Y'all!