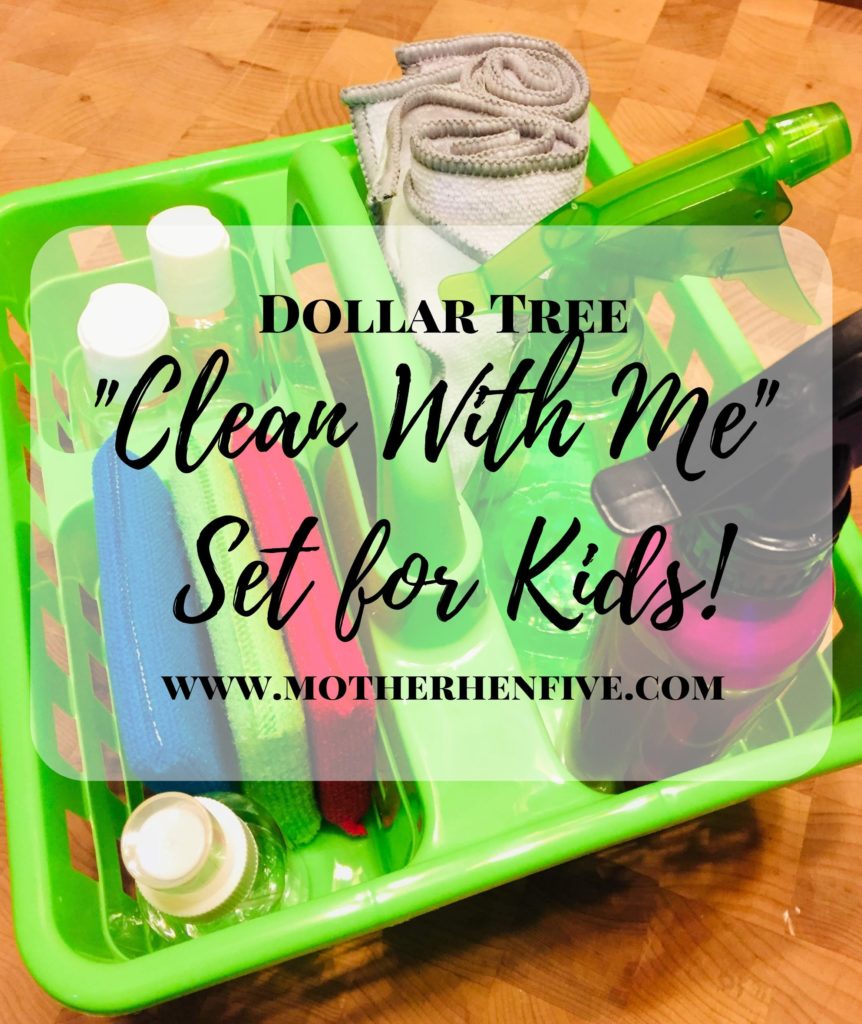 I love Mellissa and Doug toys, but some can be pretty expensive! (Some!) Their Cleaning Play Set is something I was seeing and really liked! It retails for $19.99 though!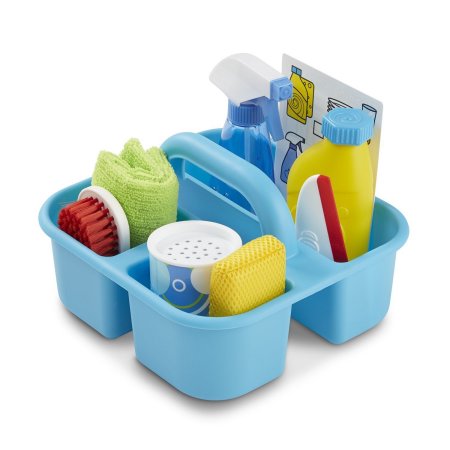 Hannah loves to try and clean with me when I'm sweeping the kitchen or especially spraying cleaning products. Which is great, but I don't really want her spraying cleaning products everywhere. She actually noticed that Leah spilled her juice the other day and I overheard her tell Leah "Oh no, Leah!" and she came and told me "Clean up juice!?" so I gave her a paper towel to see what she would do and she legit cleaned all the juice up! She layed the towel on top the juice and stepped on it a couple times then knelt down and wiped it up! It wasn't one of those cute 2-year-old attempts to "help" either! It was a proud mom-moment for me! haha So, even though she's only 2 I figured she would really enjoy this.
I saw one of these sets at a consignment sale I go to every year and it was still $14.99! I knew I could get most of these little things at the dollar tree!
While this didn't turn out exactly how I'd imagined it in my head…(our Dollar Tree really isn't that great). I still think it turned out well, and Hannah LOVES it!! She keeps calling the spray bottle "hairsprays" lol
These are the items I picked up from Dollar Tree.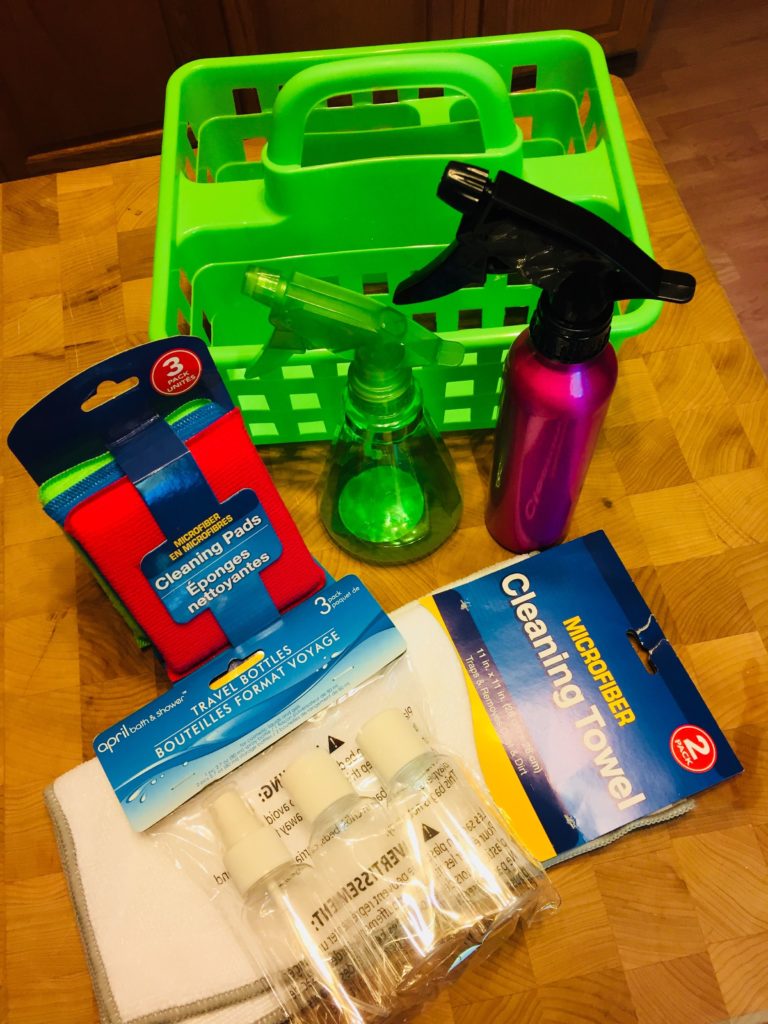 I didn't pick up the scrub brush. I don't really want Hannah scrubbing my TV screen or something like that while I'm not paying attention. Yes, that would most certainly happen. The Dollar Tree didn't have a squeegee I liked and again, didn't need her using that on things either. The green spray bottle was too fat to fit in the basket properly, but I arranged them best I could and this is the result! $6 later and she has a great toy for productive play!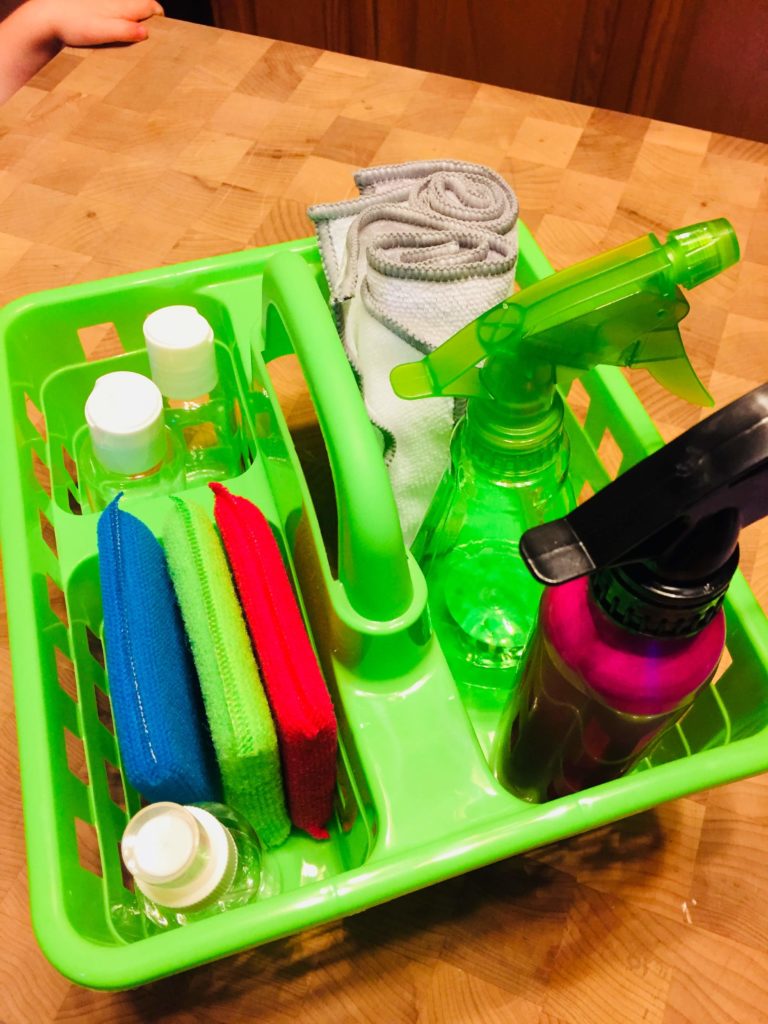 I filled the spray bottles with water and let Hannah "clean" the coffee table. She had a blast! The first picture is her asking me when she can play with it while I was taking pictures! lol It was sitting on the counter for 2 days torturing her 😉