Ladies, believe me when I say that working out is worth it!!! Maybe not always in weight, but honestly, you will feel so much better throughout the day!
I decided to do a post about my gym routine for my blog post!
     First, Get a friend that will encourage you while working out and will make sure you are actually doing what you are supposed to do! Madi is my gym partner and she is the best! She used to play softball in High School and so she knows all the workouts and tell's me how to do them and if I am doing them wrong or right, which most of the time I am doing it wrong, Her boyfriend actually made us a workout plan, however we sometimes like to have fun at the gym and do whatever we like or feel like doing if we happen to be sore from the previous day!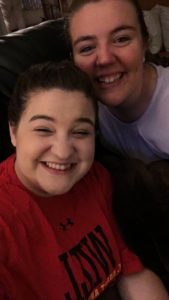 Second, Go Early! Madi and I used to work at the same place till she left me! JK I mean she did but we still workout together! But in order for us to work out with us both working different shifts almost all the time we had to do an early workout every day and it took forever to get used to waking up at 5 A.M just to get maybe an hour of workout in but its WORTH IT! Honestly it help's you get motivated to do thing's after work and just feel healthy and fit!
Third, Always drink water, often times I drink a Spark from Advocare if I need extra energy, but I will be honest I struggle with just drinking water I tend to drink coffee or Mountian Dew all the time like all day every day! So I always have friends and family telling me that I need to be drinking more water, so I have been trying cause it also help's you lose weight!
Fourth, Have a workout plan. I mentioned it earlier but Madi's boyfriend planned a Monday- Friday workout plan for us, though we may not always follow it exactly to the T, We almost always do a couple things in it a day, if not all of it! You don't want to go it and not have a clue about what you are doing the whole time being there and just stand around the gym watching everyone workout.
Fifth, Have fun with it! Working out is not something you are gonna want to do at 5 A.M so just do fun exercises that you feel is working! Don't over complicate it just watch that you are doing it right and effectively!