AnnaLynn's Baby Shower

Who doesn't love a party! We had a wonderful baby shower for AnnaLynn this past week. Each of the girls get a bridal shower and ONE baby shower! I love having a starting point by going with a theme. AnnaLynn's shower theme was Peter Rabbit. It isn't necessarily a girl theme party, but it was a neutral theme that works.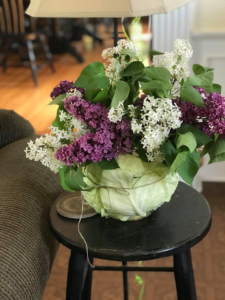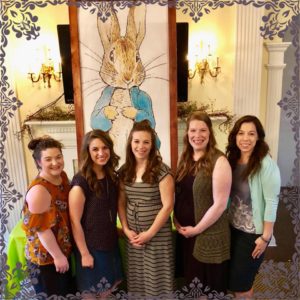 Party Planning Basics
Pick a Theme – Sometimes this is the hardest part of a party.
Gather ideas – colors, décor, games, food, invitations, etc…
Pintrest is a great place to start. Whatever theme you pick – somebody has already done it.
I have done a folder or notebook for planning events for years. It keeps thing organized and together.
3. Start ASAP! Anything that can be done ahead – do it! It's funny how an event creeps up on you. When this happens, some of those "cute" things in your folder won't get done.
I've had a lot of questions about the Peter Rabbit poster. I had it made a Staples EARLY! This was going to be my focal point, so I want to make sure it would work. I have had things done like this before, but not 6ft. tall. Have the image you want to enlarge on a flash drive. Ask for "color blueprint". If you don't say, "blueprint" you are going to pay a lot of money for it. Something this big you are going to have pixel issues, but that is okay. You aren't going to notice it unless you are close up. This 6 ft. post was under $20. Worth every penny! My wonderful husband made a basic frame for it.
4. Send out invitations 4-6 weeks ahead. We did AnnaLynn's 4 week and that was plenty of time.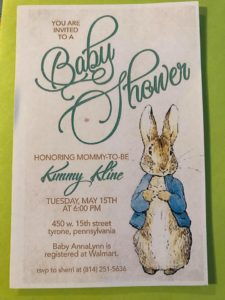 Michelle made up these cute invitations! She does a great job with, invitations, Christmas Cards, or Church needs. Contact her.5. Plan Food early and buy early (Chips, Soda, Candy, etc…)
We had veggie trays and dirt cups to go along with the theme. We had other food choices there as well.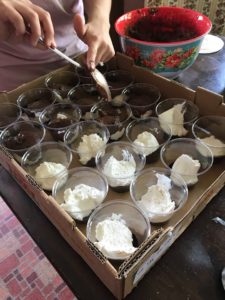 6. Plan entertaining. Gift Opening, Games, an activity, etc…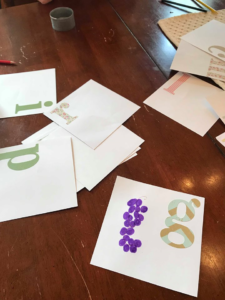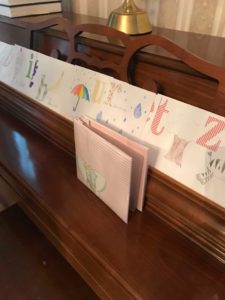 My First Alphabet Book.
Danielle was in charge of this activity. Guest were encouraged to draw a picture to represent the letter they picked. Danielle put them in a little photo book for AnnaLynn.
The girls have done sing-a-longs, read Peter Rabbit, etc… whatever to make the party a little different.
We played a question and answer game about the book Peter Rabbit. Olivia, Maddie, Mariah, and Tiffanie read the book to answer the questions.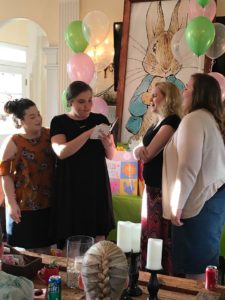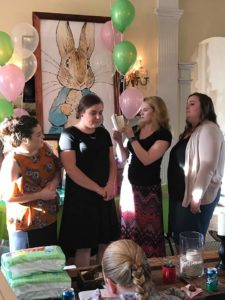 The Price is Right Game was also played.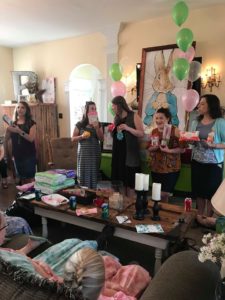 Get my Party Planner Checklist Here!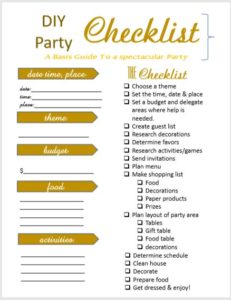 The evening was a great success and everyone had a great evening!
Don't you wish everyday was a party???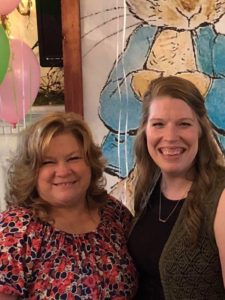 Sherri