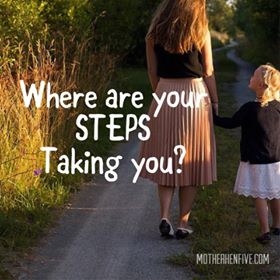 Where are your STEPS taking you?
Steps are a natural process of life.  We all get excited when a baby takes their first step. We document it in baby books.  It won't be long before our granddaughter, AnnaLynn, will take her first step.  As time progresses and we get older, our steps get a little more calculated and slower, sometimes, painful.  We learn to value our steps a little more.
Experts tell us that taking 10,000 steps a day will help in our overall health.  We have Fitbits, apps, and pedometers to keep track of those steps.  We go to great lengths to get our physical steps in a day.  These devices even tell us to get moving when we have been stationary too long.
How are we doing in the area of STEPS in our Christian walk?
 How do we know where our steps of "life" should take us? The answer is in the Bible.
That is why we say, "How is your walk with God?"
"Order my steps in thy word: and let not any iniquity have dominion over me."
"A man's heart deviseth his way: but the Lord directeth his steps."
Our ways are not good enough. Doing our own thing will certainly lead down the wrong path.
Bible Story:
Genesis 24 tells us of the story of Abraham, who sent out a servant to find a bride for Isaac, his son. Just a little bit of pressure there! The servant knew it was a big task to accomplish. He prayed and asked God for his help in this situation. (Pray and ask God to help you in whatever situation you have going on in your life. Ask Him to order YOUR steps.) The servant told God that if he really found favor in his eyes, when a damsel comes, I'm going to ask for a drink of water and if she offers to water my camels also, I'll know she is the one. Well, that's exactly how it happened.
In Genesis 24:27, "And he said, Blessed be the Lord God of my master Abraham, who hath not left destitute my master of his mercy and his truth: I being in the way, the Lord led me to the house of my master's brethren."
The servant knew he was where God wanted him to be and because he was, God blessed him.
Go read the account of this Bible story in Genesis 24!
2. Don't go backward in your Christian Walk
"Our heart is not turned back, neither have our steps declined from thy way;"
Stepping is a forward motion. Walking backward is awkward.
When you are trying to carry a piece of furniture, and you're the person that has to walk backward – it's hard, it's not natural.
When we are declining as a Christian, we call that backsliding.
"I desired Titus, and with him I sent a brother. Did Titus make a gain of you? walked we not in the same spirit? walked we not in the same steps?"
"They have prepared a net for my steps; my soul is bowed down: they have digged a pit before me, into the midst whereof they are fallen themselves. Selah."
Don't let people sidetrack you in your walk with the Lord.
"But as for me, my feet were almost gone; my steps had well nigh slipped."
Are you a lady getting up in years? Don't quit! Keep moving for the Lord.
"For even hereunto were ye called: because Christ also suffered for us, leaving us an example, that ye should follow his steps:"
Follow good, godly examples in your life. We follow people in other areas in our lives.
3. Good Examples to Follow:
Jesus
Godly women

Pastor's Wives
Mothers
Missionaries
Grandmothers
Recommend Books:
This site includes ads and affiliate links. I may receive a small commission (at no extra expense to you) if you make a purchase after clicking on a link. Thank you for supporting motherhenfive.
4. Set a godly example for someone in your life.
Read your Bible daily
Pray without ceasing
Attend Church when the doors swing open
Have a good spirit
5. When you stumble – Get Back Up!
The Bible says in Proverbs a just man falleth seven times but riseth up again. The Bible didn't say, wicked, godless sinners. It says a "just man". We all have times in our lives we make mistakes. We don't make the right decision and we stumble and fall. Get back up! There is more to do in our own personal lives as well as in the work God has ordained us to do.
Make your STEPS count in 2019!